Above: The Prince of Wales and the Duchess of Cornwall meet Dennis the Menace during a visit to DC Thomson Printing Plant in Dundee, Scotland on June 11. (Photo © Press Association. Photo source: The British Monarchy.)
Charles and Camilla have been immortalized as cartoons in the latest edition of children's comic "The Beano."
Note: The article below from the Guardian.
---
This article titled "Prince Charles and Camilla tame the Beano's Bash Street Kids" was written by Caroline Davies, for The Guardian on Tuesday 11th June 2013 16.26 UTC
The Prince of Wales and Duchess of Cornwall acquired some rather unusual prints to add to their collection when they took a trip to Bash Street, home of the Beano.
The couple were immortalised as cartoons in the latest edition of the comic, persuading Smiffy and the gang into eating their greens and reading books.
The royals were presented with framed prints during a visit to publishing company DC Thomson & Co in Dundee, where they started the firm's new printing press. The special edition sees them meet Dennis the Menace, Roger the Dodger et al in Beanotown's Bash Street School.
The storylines were designed to reflect the royals' interests. Charles is pictured dropping into the school canteen and finding the food inedible, persuading the kids to put their pea shooters to good use as seed planters to grow their own.
Camilla, meanwhile, opens the school's new library, convincing the unruly pupils that reading is fun.
The Beano's editor, Craig Graham, said he hoped the prints would make it on to the couple's mantelpiece. "Often we're a little bit nervous because we do, by the nature of things, have to caricature people.
"But they were both absolutely delighted with their likenesses and hugely impressed to be involved with characters like Dennis the Menace and Roger the Dodger".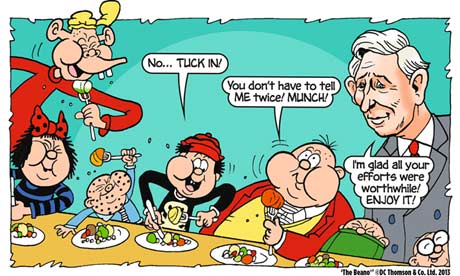 They are not the first royals to make the strip. The Duke and Duchess of Cambridge featured last year.
guardian.co.uk © Guardian News & Media Limited 2010
Published via the Guardian News Feed plugin for WordPress.